I'm very excited to be part of "Sisters in Jazz Day" with Music Arts Collective (Jodi Proznick, myself, and our guest Heather Bambrick) and the VSO School of Music. We've partnered up to present a day of online workshops on March 19, 2021 – which will include topics in rhythm, improv, composition, and history!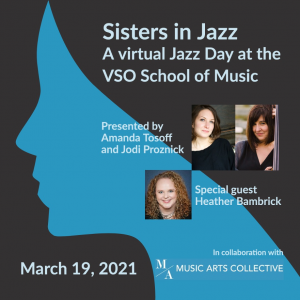 It's great for students AND teachers who are looking to explore new topics and a bit of history about Women in Jazz. JUNO nominated vocalist/songwriter Heather Bambrick, jazz radio host at Jazz FM, will be hosting the listening exploration. It's going to be a treat!
The initiative is a response to the fact that there are still only approximately 5% women instrumentalists in the world of jazz – and we have discovered that the virtual environment is a fabulous and safe space to explore some guided practice and jazz concepts. All ages – and anyone who identifies as a "sister" is welcome!
You can find more information here: https://vsoschoolofmusic.ca/program/sisters-in-jazz-online-class/
Don't worry if you can't make it all day! All the workshops will be recorded and up on our site later, so register now and tune in anytime after we have them posted!