I'm excited to announce that I have a new album coming out – called Earth Voices. It is the follow-up to my Juno-nominated Words album and features 17 amazing guests. I hope you'll support this album by pre-ordering it on Bandcamp, iTunes, or from my store – I even set up a few special combo offers for those of you who prefer to hold a physical CD or two in your hands!
With the pre-order you'll get an instant download of the first two singles featuring the amazing Emilie-Claire Barlow, and Laila Biali & Alex Samaras!
…and of course…the entire album Jan 29, 2021, along with the album artwork by artist Sonia Beckwith!
Check out the teaser below for more information and then head over to Bandcamp or iTunes to get the first single (you may have click "open in iTunes" or search for it in your app)
Digital Album can also be pre-ordered from my Artist Store, as can the physical CD…
…which still comes with instant track download that will arrive in your inbox within 1 business day. I've even put together some special combo offers celebration of the Earth Voices pre-release, like this Words Project Combo below. Hope you enjoy!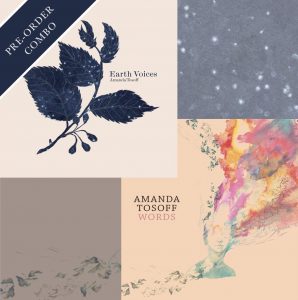 Read more about the many amazing voices on Earth Voices, here.